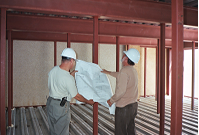 Since 1992, the Biosphere International has grown steadily supporting offices in both Georgia and Florida. We owe this growth to satisfied customers and repeat business. Biosphere has built its' reputation on integrity, impressive track record, unique and responsive approach to project management, and the ability to add value to all of its projects.
Over the years, a high percentage of Biosphere's new projects were by referrals from satisfied customers. There is no better advertising than satisfied customers! Biosphere strives to work harder, safer, smarter than our competition, and Biosphere's reputation in the field is a direct result of this effort.
"I compliment Mr. Ron King, his management and staff for the job they did for our company."
Our goal on all projects is to continue to build ongoing, long-term relationships with our customers. This accounts for the special dedication we bring to completing projects on time and exceeding clients' expectations. With our management, knowledge and understanding of the construction process, resources and expertise, our customers benefit by getting the most value for their construction dollar.
Biosphere's staff consists of professionals with extensive experience in construction and environmental projects. Some of the services we provide are: Demolition & Renovation, New Construction, and Design Build. Biosphere's environmental capabilities include Asbestos and Lead Abatement services.